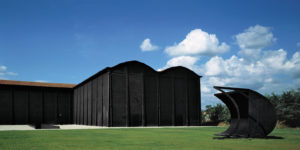 In a suburb close to the centre of Città di Castello, the Ex Seccatoi del Tabacco [Former Tobacco Drying Sheds], which opened in 1990, constitute an exemplary restoration of industrial archaeology carried out at the request of Alberto Burri, who imagined them as a suitable place to house his latest creations. 128 works created between 1974 and 1993 are exhibited here. Burri joins the Drying Sheds, just as he did at Palazzo Albizzini, respectful of the potential of the incredible space, bringing it together perfectly with his most recent artwork.
The enormous complex, that dates back to immediately after the war, was used to keep the tobacco cultivated in the Alta Valle del Tevere area and in 1966 it housed volumes of the Biblioteca Nazionale Centrale and the Court of Florence following flooding, until they were restored.
In the exhibited artwork the focus of the artist is primarily concentrated on one unique material: cellotex, a type of wood blend used from the first pictures in the 1950s as a support, that now becomes exposed and on which surfaces the artist intervenes sometimes scratching, carving or lifting the outer layer of cling film, other times painting it. The works of art are positioned in "cycles", marking the breakthrough of Burri towards a more complex and monumental art, in which the artist is stimulated by the relationship of these pieces with the suggestive and captivating spaces of the drying sheds.